Boulder Market Dynamics - Two Year Snapshot
Posted by Boulder Home Source on Thursday, November 8, 2012 at 3:07 AM
By Boulder Home Source / November 8, 2012
Comment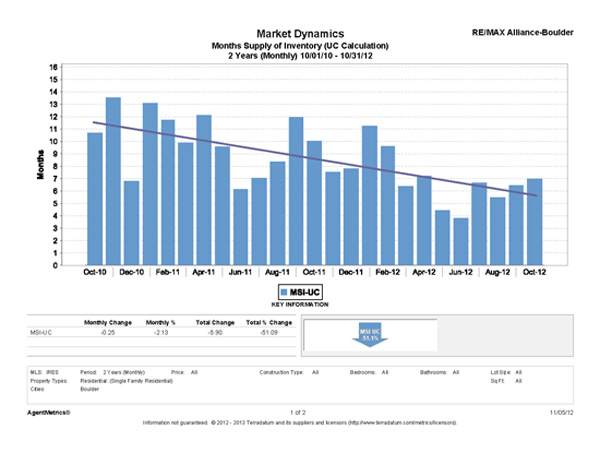 It has been awhile since we have needed to use the "Sincere Request" plea, but the steadily declining inventory in Boulder County and along the Front Range of Colorado has brought this old tool to the forefront again. As I was walking around the office today, several of our agents were looking at ways to go beyond the standard to find homes for their buyers. Just checking the MLS every day is not enough when the market heats up. You need to call other brokers, mail neighborhoods, and dust off the sneakers and go door to door.

The chart above is a good indicator of why this is the case. The monthly supply of inventory in Boulder has dropped close to 50% and in other markets we are seeing even tighter numbers. The City of Boulder has moved to what many would consider a balanced market at six to seven months of inventory. Markets such as Louisville, Colorado and some parts of Denver are very strong Sellers markets at this time. A prime indicator of this is we just had one of our first resale properties hit the market in Steel Ranch in Louisville. The home is under contract for 25% more than the initial purchase price from a year ago, wow can you say tight Seller market!

As always, real estate is cyclical and has been the ugly stepdaughter for over 5 years now, but in our area we are starting to see Real Estate dusting off its gown and putting on its glass slipper for the ball.